This International Women's Day (which happens to be the day after World Book Day) we've put together a list of some of the most inspirational women in literature. From classics like Pride and Prejudice to new YA fiction like The Hate U Give, this list will inspire you to stand up for those around you, trust your instincts and be your own hero.
1) Daenerys Targaryen – A Song of Ice and Fire (Game of Thrones), George RR Martin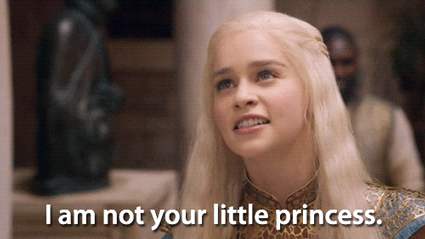 Daenerys Targaryen is one of the most badass characters ever written – the Unburnt, Queen of the Andals and the First Men, Khaleesi of the Great Grass Sea, Breaker of Chains and Mother of Dragons, her title literally says it all. Not only does she hold her ground in a world dominated by men, she stands up for the oppressed and uses her power to bring freedom, justice and change for the people that deserve it.
2) Matilda – Matilda, Roald Dahl
Even though she faces a lot of abuse from her family and her headteacher, Matilda doesn't let that get in her way and she isn't afraid to take a stand against inequality and unfairness. Strong, thoughtful and kind, Matilda knows the difference between right and wrong. Instead of sitting and waiting for a hero to come along, Matilda takes things into her own hands and uses her own initiative and intelligence to overcome any obstacle.
3) Starr Carter – The Hate U Give, Angie Thomas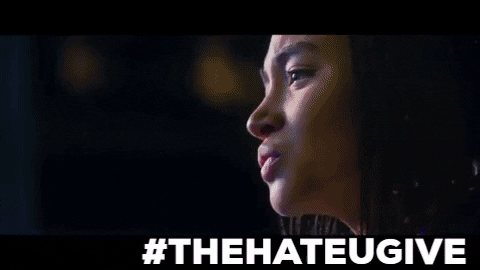 Starr Carter faces a devastating and life-changing event with bravery, determination and strength. Torn between two very different worlds, Starr has to overcome her reluctance, grief and fear, finding her voice and the strength to stand up for those who are fighting against injustice and persecution.
4) Elizabeth Bennett – Pride and Prejudice, Jane Austen
Pride and Prejudice is an absolute classic, for good reason. The main character Elizabeth Bennett is independent, witty, and not scared to speak her mind. In an age when women were reliant on men for financial security and safety, Elizabeth doesn't let that phase her, calling out toxic masculinity and privilege, and refusing to settle for anyone who doesn't respect her or her opinions.
5) Ginny Weasley – Harry Potter, JK Rowling

So we're not talking movie Ginny here, we're talking book Ginny – as witty as Fred and George, as determined as Harry and as loyal as Ron, not only is she hilarious to hang around with but she's not afraid to stand her ground and call people out when they're acting like idiots. She's an awesome quidditch player and she's also great at magic (especially when it comes to hexing people who get on her bad side) plus she always stands up for the people who need it. If you've only ever watched the films, you are definitely missing out. Book Ginny is strong, sassy and arguably the best of all the Weasleys.
6) Maya Aziz – Love, Hate & Other Filters, Samira Ahmed
Maya is funny, relatable and deals with a lot more than your average 16 year old. As she navigates the challenges of growing up as a Muslim in a small American town, we see her strength, resolve and sense of humour when dealing with problems big and small, from convincing her traditional Indian parents to let her study film in New York, to facing up to discrimination, bigotry and racism in her hometown. Basically a total badass.
7) Katniss Everdeen – The Hunger Games, Suzanne Collins
One of the most iconic characters on film and page, Katniss Everdeen's drive, skill and determination are hard to match. From the way she sacrifices herself for her sister, her determination in the games themselves, and the way she steps up to lead a revolution whilst battling against PTSD, she is always putting others before herself and fighting for what she knows is right. We want to take up archery because of her.
8) Liesel Meminger – The Book Thief, Markus Zusak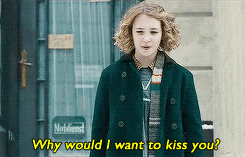 Liesel Meminger is smart, brave and not afraid to speak her mind. Even though she experiences loss and pain very early on in her life she doesn't let that defeat her, and instead she learns how to channel her anger to stick up for herself and for the people around her. She cares deeply for her friends and family, and does what she can to stand up against an immoral and unjust society.
9) Denna – The Kingkiller Chronicles (The Name of the Wind), Patrick Rothfuss
If you haven't read The Kingkiller Chronicles yet, you need to get on it ASAP. It's a brilliant fantasy series, full of magic, mystery and killer characters. Denna is fiercely independent, witty and strong. She comes and goes whenever she wants, and won't let any man tell her what to do. In a man's world, she is able to fend for herself without relying on anybody to rescue her.
10) Violet Baudelaire – A Series of Unfortunate Events, Lemony Snicket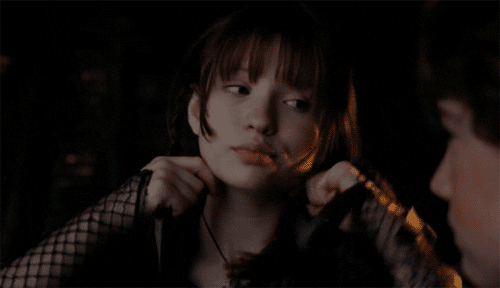 Whatever situation she and her siblings end up in, Violet Baudelaire can always be relied upon to think her way out if it. Violet is practical, intelligent and level-headed, and is definitely the person you want next to you if you're faced with an unfortunate event of any kind. She's also really caring, and always tries to see the good in people, despite what life throws at her.
11) Offred – The Handmaid's Tale, Margaret Atwood
Offred's dark sense of humour and perceptive insight make her a fascinating character to read, and her flaws make her incredibly relatable. In a world where women are treated as little more than objects, June manages to maintain a sense of self-identity and purpose that gives her strength and power.
12) Hazel Grace Lancaster – The Fault in Our Stars, John Green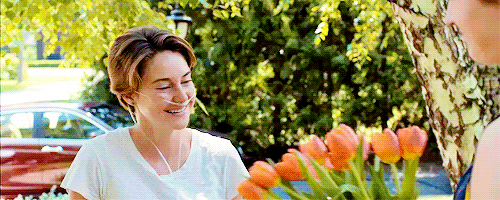 While Hazel might get physically weaker throughout the novel, she really grows mentally and emotionally. Dealing with things that no teenager should have to go through, she demonstrates true courage with humour and determination. She cares deeply about the people around her, and eventually opens up and allows people to get close to her – something that takes real strength.
13) Karou & Zuzana – Daughter of Smoke and Bone, Laini Taylor
Karou and Zuzana's sarcastic way of dealing with the peculiar, unsettling and distressing events that occur in this series of novels is brilliantly funny and highly relatable. They are both incredibly strong women, independent and brave. In the words of the narrator: "Deciding to take her on was akin to a fish deciding idly to gobble up that pretty light bobbing in the shadows and then – OH GOD THE TEETH THE HORROR! – meeting the anglerfish on the other side."
14) Lara Jean Song Covey – To All the Boys I've Loved Before, Jenny Han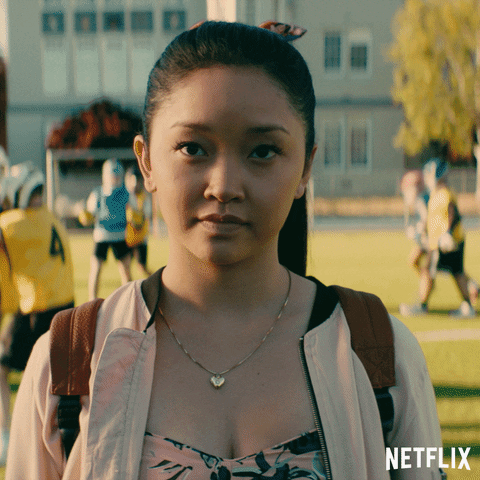 Despite the major embarrassment of having her innermost secrets revealed to the people she least wants to share them with, Lara Jean faces her fears and embarrassment head on. With humour, bravery and a totally endearing awkwardness, Lara Jean manages to turn a sticky situation to her advantage, and style it out in the end.
15) Scout Finch – To Kill a Mockingbird, Harper Lee
Scout is the youngest of our inspiring women – being only 5 years old when the novel begins. She is bursting with curiosity, intelligence and compassion – which her brilliant father Atticus really encourages in her. She doesn't conform to the stereotypes expected of girls her age, and instead climbs trees and enjoys adventures with her brother and their friend.
16) Malala Yousafzai – I Am Malala, Malala Yousafzai with Christina Lamb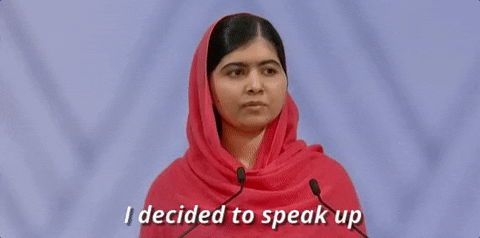 One of only two real-life women in our list – Malala almost paid the ultimate price for standing up for her right to education and speaking out against the Taliban. Even after being shot at point-blank range, she refused to back down – instead using her new global spotlight to speak up for other girls facing discrimination and disempowerment. The youngest nominee for the Nobel Peace Prize, Malala is dedicated, intelligent and highly motivated, yet still super relatable and funny.
17) Lucy Pevensie – The Chronicles of Narnia (The Lion, The Witch and the Wardrobe), CS Lewis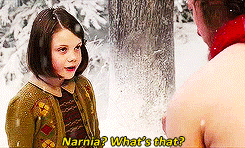 Lucy doesn't let her age stop her from standing up to her older siblings, and eventually ruling over a kingdom with them. She is brave, determined and always focused on truth, and her considerate, sensitive nature makes her a compassionate leader who is capable of forgiving even her irritating brother Edmund.
18) Kate/David – The Art of Being Normal, Lisa Williamson
David (who later chooses the name Kate) faces bullying, prejudice, fear and transphobia with real courage. It's a story of friendship, self-discovery and acceptance, and the way in which they deal with the pressures, complexities and prejudices of being transgender is eye-opening, thought-provoking and pretty inspiring.
19) Hermione Granger – The Harry Potter series, JK Rowling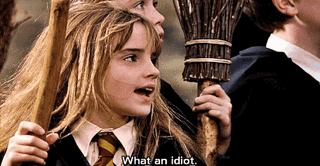 Another incredibly strong female character in the Harry Potter series – Hermione is arguably the true hero of the books. She faces down prejudice with determination, compassion and skill, and is always there for her friends. And although Emma Watson plays a good Hermione in the films, book Hermione is definitely a more interesting and nuanced character – plus, when she's read as a woman of colour (to quote JK – "Canon: brown eyes, frizzy hair and very clever. White skin was never specified. Rowling loves black Hermione 😘"), Hermione's fight against prejudice is even more real.
20) Tris Prior – Divergent, Veronica Roth
Tris' bravery and determination really define her as a character, especially when she's faced with difficult decisions about where she belongs and who she wants to be. She won't let anyone define who she is, and instead forges her own path. She is physically and mentally strong, always pushing herself and those around her to be the best they can be.
21) Irene Adler – Sherlock Holmes, Arthur Conan Doyle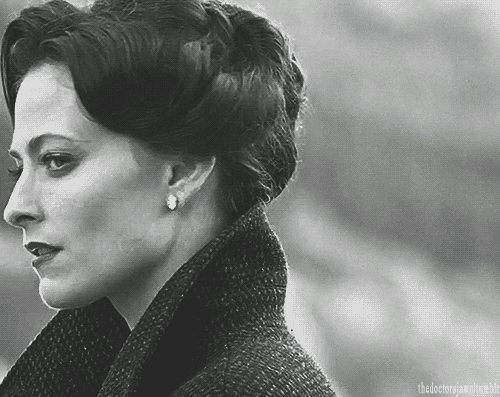 One of the few people who can hold her own against Sherlock Holmes, Irene Adler is witty, cunning and highly intelligent. A master of disguise and manipulation, Adler is able to trick her way out of almost any situation – even outsmarting the great Holmes in "A Scandal in Bohemia".
22) Anne Frank – The Diary of a Young Girl, Anne Frank
The second of two non-fiction woman in our list, Anne Frank is truly inspirational. From the age of 12 she wrote her diary whilst in hiding from the Nazi regime in Amsterdam. Her writing gave her an outlet for her frustration, worries and concerns as well as for her sense of humour, and 50 years after it was written, her diary was described by Eleanor Roosevelt as "one of the wisest and most moving commentaries on war and its impact on human beings that I have ever read."
23) Arya Stark – A Song of Ice and Fire (Game of Thrones), George RR Martin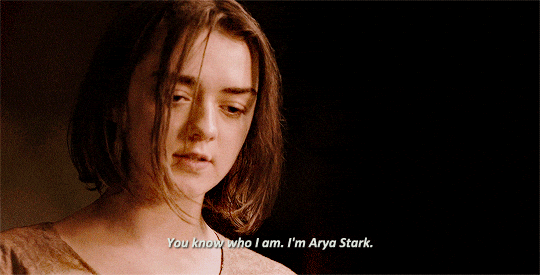 Another entry from Game of Thrones, Arya Stark refuses to conform to expectations, and instead sticks it to the man (with the pointy end) every chance she gets. She is one of the bravest characters in the series – especially considering that she's only 9 when the books begin! Rebellious, ruthless and smart – Arya Stark is really not one to be messed with.
24) Hester Shaw – Mortal Engines, Philip Reeve
Hester Shaw is not your traditional female in an action plot. Unafraid to put herself in harm's way, Hester is stubborn, brave and often responsible for protecting and caring her Tom – her friend and companion. She defies stereotypes and refuses to give up on her mission. And yes, she has a facial scar. And no, that doesn't make her a villain, or a victim. It turns out you don't have to look like the conventional stereotype to be a kickass hero.
25) Eowyn – Lord of the Rings, JRR Tolkien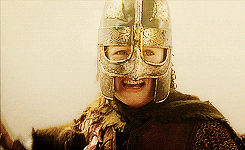 Tolkien is not known for being a particularly feminist writer, but the character of Eowyn is a breath of fresh air. She faces hardship and prejudice with strength and courage. She calls out sexism when she sees it, and she literally laughs in the face off one of the most terrifying creatures in Middle Earth, killing the Lord of the Nazgul in one of the most epic battle scenes in the series. If ever there was a woman who lived by her own rules, it was her.
---
Well that's it from us, but we know there are so many more out there – let us know if we've missed anyone out. Who inspires you?
If you want plenty of great content every day, from motivational quotes to inspirational stories, head on over to our Instagram @ditchthelabel
Need to talk?
Join the internet's safe space